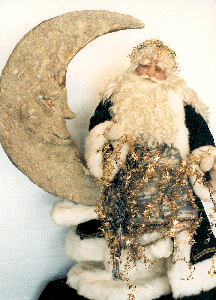 Q: How did the stars get in the sky?
A: Santa sits on the moon and throws them into the sky.
"Santa on the Moon" is 36" tall and the moon itself took three weeks to construct. The wonderful texture and patina are indescribable. You have to see it to appreciate it. Santa has a luxurious midnight blue velvet-veined coat, trimmed in antique gold and yards of white rabbit fur. Two inner robes are trimmed in exquisite metallic gold trim, woven antique glass bead trim, and cream patterned velvet leggings. Great amounts of luxurious curls spill from his beard and cascade over his shoulder and down his back. The base is covered with clouds of white rabbit fur. (Fur is recycled.)
Crystal blue blown glass eyes light up his incredibly sweet face.

$4,000.00 plus shipping and handling.
To Order, call or E-Mail:
Judith Klawitter
(406) 542-5077
judith@jklawitter.com



Home | Sculpting - How to Video | Sculptures
Publications | Commissions | Classes