From 28 inches to life size (approximately 5'7") the incredible detail will have you asking, "Is it real?" From their realistic eyes to their time-worn faces, all of Judith's sculptures look so alive you want to pinch their chubby cheeks. Adorned in gorgeous vintage fabrics and trims; handmade toys, antiques & reproduction toys spill from bags, baskets, pouches and pockets.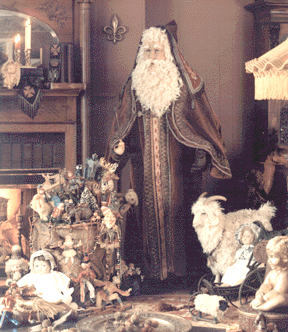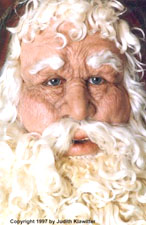 Each Santa is so unique, they will capture even the most discerning eye. Whether you're looking for a family heirloom or the focal point for your store display, your sculpture will be treasured for many years to come.

In commercial business settings, your sculpture will become the talk of the town. Beckoning customers into your store, their uniqueness is worthy of local media attention. Year after year, your customers will make a traditional visit with family and friends to see Santa or his female counterpart "LaBefana."