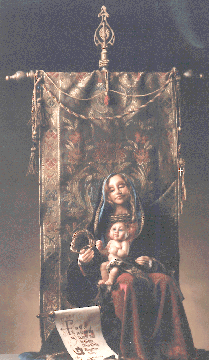 I prayed for a piece that would reflect my spiritual side, and this was the answer to my prayers.
Jesus was born to pay the price for our sins, our healing, and our redemption.
Tears spill from Mary's eyes, knowing her son, the son of God, would be the "Ransom" paid for man. Baby Jesus has pricked his finger on a real "Crown of Thorns", his blood spills, marking his foot where one day a spike will pierce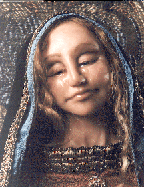 his precious flesh. From there, his blood splatters upon a scroll that reads from John 3:16, "For God so loved the world, that he gave his only begotten son.
" Hammer and spike are strewn across the granite-look base. Many of the fabrics and trims are antique. 28" high, $3,995.00 plus shipping and handling.
To Order, call or e-mail:
Judith Klawitter
(406) 542-5077
judith@jklawitter.com

Home | Sculpting - How to Video | Sculptures
Publications | Commissions | Classes