Sculpt like the Master!
"Anatomy of Age"
Learn how to sculpt
a realistic Santa head
from the Master Herself,
Judith
Klawitter
in the privacy of your own home!
"The Anatomy of Age"
Sculpting a Realistic Santa Head
Click here to order your own edition of "The Anatomy of Age"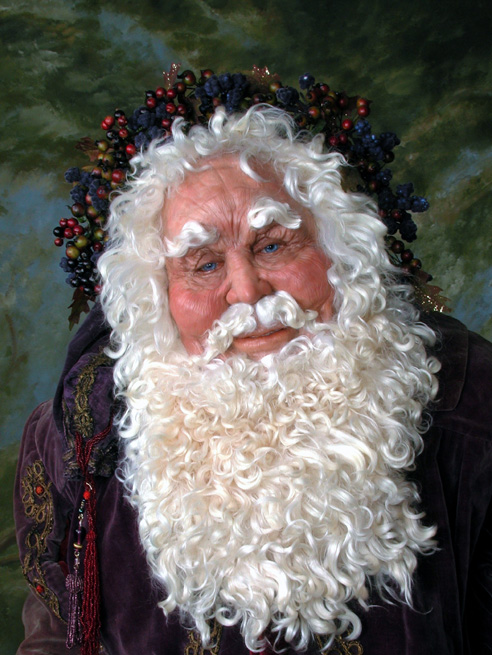 Judith has created a step-by-step video, demonstrating how easy it is to create your own work of art! She guides you on simple sculpting techniques, smoothing out the clay with 'Motion Lotion', simple 'fixes' and her renowned wrinkle techniques.
"While my techniques are advanced, my teaching focus comes to you as very basic." -Judith Klawitter

I received my kit and couldn't wait to tear into it and find the treasures you had sent me. I am so pleased with everything, the tools and the video! I would never have accumulated the tools you sent. I loved your demonstration on sculpting but most of all you gave me the freedom to use my talent without feeling guilty. Thank you so much! You have given me more than I expected. --Wanda
Judith's video makes sculpting a realistic Santa head fun and easy, even for the beginning sculpture! If you enjoy working with your hands and creating something truly unique, this video is a 'MUST' have.
Now you don't have to come all the way to Idaho for a sculpting seminar in order to get those wrinkles right. You can learn what it takes to get plump wrinkles, expressive smile lines & folds. Learn how to put the sparkle in Santa's eyes and how easy it is to sculpt teeth for that endearing smile.
Learn the anatomy of age: crows feet, smile lines, wrinkles, folds, sagging & bagging, depth & dimension; it's all here!
Don't be intimidated, you can't be left behind: just rewind!
"Even if you have never picked up clay before, you will find this very easy to follow." -Judith Klawitter

I just recently received your video . I was amazed at the video, how you explained everything, the ability to see what you were doing, your technique. I wanted to make a Santa after seeing one of yours a few years ago. It seemed like a dream and just being able to do one and say, "I did it, I created it!" I know it is possible to do now, with the video and the tools. -Shirley
Your video package is placed in a re-useable gift/shipping box and includes:
Secrets of how to sculpt wonderful wrinkles, bags, folds, etc. culled from over 15 years of sculpting & teaching

Learn how to create sculptures from 2" to "life size".

More than 4 1/2 hours of video instruction on 3 DVDs

1 instructional booklet with diagrams

"Before you Bake" list to ensure your sculptures come out right

A recommended resource for top quality supplies including wigging and bearding materials, toy making supplies, eyes, eye lashes, "How to" boot making information, armature and ready made bodies, more, more and more!!!

8 specialized rubber-tipped sculpting tools

5-piece set of unique dental tools

6-piece wood set of eyeball sizers

1 paring knife

1 scalpel

2 specialized paint brushes

1 bottle of "motion lotion" with information on where to purchase in your area.

1 re-sealing "motion lotion" cup

1 flexible "see through" vinyl ruler

1 velvet bag for the tools

1 customized video case to hold instructional material and tools

AND

A personal message from Judith about her "secrets to success" at the end of DVD three.
I received your video and I can't tell you how thrilled I am! I have several other sculpting videos, but none has related to me like your has. I was nervous to spend so much, but it is so worth it! I also want to say that you made a great choice in the tools you have in the set. They are wonderful! Thank you so much! -Karen
SAVE thousands of dollars!
This video is a one-of-a-kind
and cannot be purchased elsewhere!
Sculpt with the Master, creating your own wonderful works of art,
all in the privacy of your own home for only
$295.00$150.00 plus $13.00 S&H
If purchased separately, the tools alone would cost more than this complete sculpting set which includes the 4 1/2 hours of instruction created by Judith herself! You can use this unique instructional video time and time again...start a new sculpture or just a refresher on a forgotten technique. The entire sculpting set will be available for your use whenever you feel like creating a unique sculpture of your own.
Click here to order your own edition of
"The Anatomy of Age"
TODAY!
Home | Sculpting - How to Video | Sculptures
Publications | Commissions | Classes